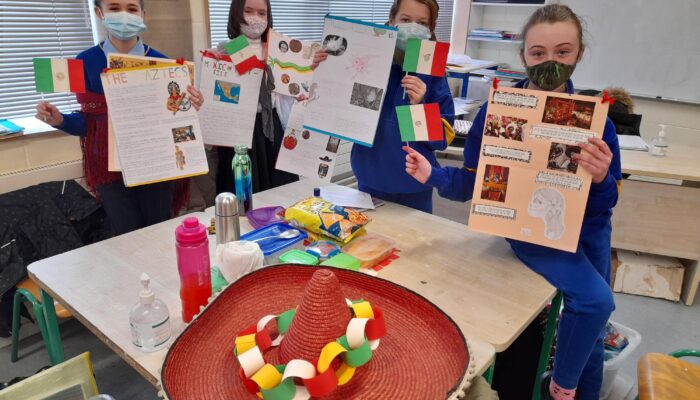 6th Class News
Mr. Forde's Class
Mr Forde's class have been doing short drawing lessons every day for the past 2 weeks, it is a great way to relax and chat while learning something new. Some items they have drawn so far is an eye, a horse, a car, 3D letters and optical illusions. At the start of March the class had a bake and branding competition. In groups of 3 one person would bake a cake, cookies etc. Then another person had to design and make the packaging, come up with the price and finally all 3 members had to present their new product to a pretend store. In Science they made pumps, cranes, missiles and we also had to make a marble run.
Ruairí has also been presenting a radio show every 2 weeks. He finds out about members of the class favourite movies, colours and cars etc.  He presents the show on a Friday and invites a member of the class up for a quiz too.
Ms. Kenny's Class
Ms Kenny's class started GAA with Paul O' Brien on Tuesdays the 15th Of March. For the past 10 weeks they have also been doing Athletics, relays, high jump, long jump, for the school Athletics Day in May. The class were learning about Africa and in their pods and they worked together on African art and research. At home they focused on one country in Africa too . For the past month the children have been reading The Guns of Easter which everyone is enjoying. It is about dreams of glory and battle that turn to dust when one young Dubliner is faced by the harsh reality of war.On the 10th of March, Ms. Kenny's and Mr. Forde's class visited St. Mary's Church to learn about the old church and to see the bells. They also did a quiz about the church and the graveyard, which was great fun.  For their last walk and talk, they went for a walk around the town with posters trying to raise money for Charlie Birds fundraiser event 'Climb with Charlie'
Ms Murphy's Class
This term in Ms. Murphy's sixth class, we started off with the Winter Olympics. We made skiers out of tinfoil and lollypop sticks. Ms. Murphy used her amazing crafting skills to create a hillside for our skiers.We did projects on inventors such as Nikola Tesla, Alexander Graham and Robert Anderson. Some were digital and some were on card. We presented them in front of our class. For World Maths Day we went outside and used our Maths Eyes to find patterns and shapes in the environment. We also made our own patterns! We have recently been learning about Ireland and the 1916 Rising. It has been interesting looking into the past of Ireland. We have also been doing Confirmation Preparation, quizzes, fit 4 class and we helped during the Céili.
   We had a great term!
Cillian & Ciara
5th Class News
Ms. Nugent's Class
Ms. Nugent's class celebrated Chinese New year at the start of the term and made some colourful lanterns too. In February they also made a 3D Spring display with 6 giant flowers and some miniature flowers also. For St. Valentine's day, the class coloured hearts and butterflies and made these into Valentine fish. To celebrate St. Patrick's day, the children made shamrock men and hung flags around the classroom.  The class also did lots of project work this term. One of the projects they worked on was the Wild Atlantic way. When the children finished their projects they painted pictures of the Wild Atlantic way and displayed these in the classroom. Another project that the class worked on was Irish feasts & festivals. The class learned all about different types of rocks and displayed these in the classroom. The children are reading a novel about Tom Crean, the famous Irish explorer and have made a timeline of his life. They are also really enjoying their latest projects which are on Blessington
Ms. Gilligan's Class
Ms. Gilligan's class have been busy the past term  doing all kinds of fun activities.  The class had a goodbye party for their Spanish student Pablo.  The children did projects on someone who inspires them and they learned about the Boston tea party. The class got their white board back to work again so they have started doing brain breaks like Wordle and Heardle.  The weeks have gotten really busy with the GAA on Tuesday and Spanish on Wednesday.  For Mother's Day the children made a flower for their Mams to say Happy Mother's Day.  The class also learned about the Blessington, Ballinahown and all around the Blessington lakes.  They learned in history that the main street in Blessington was filled with shops and farmer's markets.  The class did some study on the Old Blessington to Dublin Tramline.  Every day they work on gratitude and self-reflection to improve and look after their mental health. 
Ms Heraghty's Class
Ms Heraghty's class has been very busy this term! Firstly, the children did a lot of work on world revolutions. Each pod or table group did a poster and researched The American, French or 1798 Rebellion in Ireland. They learned about how Wicklow was a part of, and was impacted by the 1798 Rebellion too. To coincide with these projects, they also did Geography projects about France and the USA. The class also learned about marine habitats and the beautiful discovery points along the Wild Atlantic Way. The pupils discovered that Ireland has a lot of feasts and festivals and that many of them have very ancient origins. PE has been great this term. The children did a class workout once or twice a week and have a GAA coach helping them with their football skills at the moment. The class has nearly completed the Fit4Class Athletics programme too!!
Bhí an-spraoi acu i rith Seachtain na Gaeilge. Rinne siad a lán rudaí. Bhí siad ag damhsa agus ag insint scéalta. D'fhoghlaigh siad faoi logainmneacha Chill Mhantáin agus ghlac siad páirt i dTráth na gCeist.
The children  did lots of beautiful art this term too – Valentine's and St. Patrick's Day cards, a still-life of our own chosen object, posters of The Boston Tea Party and the Storming of the Bastille and we worked in groups of 3 to create our own version of Van Gogh's, 'Starry Night'.They went on our Walk and Talk and  had a super yoga session with Tracey. These activities are part of our Mindfulness activities and everyone really enjoyed them.At the moment they are researching and learning all about their own local area through the ages. The class are hoping to gain lots of knowledge about Blessington and the surrounding area.
Ms Steedman's Class
Ms Steedman's class have had a great 3 months. Let's start with friendship week. This week was really important for the class.  They did circle time and realised that they all had to be much much nicer to each other. Since then, the class have all been much more comfortable together!  They are a very happy class! The children have loved learning Spanish with Sara. Its great fun. Sebastián joined the class for 4 weeks. He was a great footballer but sometimes he took our football games a bit too seriously!
The children listen to news2day everyday because they like to know what's going on in the world. They have also been learning about what's going on in the Ukraine. Last Monday the class were lucky enough to welcome Arina to Ms Steedman's class and are doing everything they can to make her feel happy.
Liam, Tia, Ciara & Abby
4th Class News
Ms. Nugent's Class
Ms. Nugent's class have done St. Patrick's Day art and they have also done projects based on the Normans. Along with that they have had Niall De Búrca come in and tell them a story in Irish. Speaking of Irish, they have done an Irish quiz. For PE they have been doing soccer. They have done art based on books. On the topic of books, they have done a story telling competition.
Ms. Murphy's Class
Ms. Murphy's class have also been working very hard this term. First of all, an artist came in and made felt letters with the class. With art they have made paper flowers using paper petals. They have been working on newspaper articles too. Moving on from art, they made s'mores and did loads of quizzes like Ms. Kenny's Gaeilge quiz. To round if off they did a 'Walk and Talk', learned about jelly fish and did a compliment tree.
Ms. McNamara's Class
Now for Ms. McNamara's class. For art they have been doing hot air balloons and stained glass shamrocks. For project work they have done volcanoes and loads more. With P.E. Ms. McNamara's class have been doing basketball, Olympic handball and rounders. For English they did diary writing. For Maths they did a World Maths Day quiz and learned about maths around the world. For SESE they researched rivers. Let's end it with some wellbeing. They did self-reflection journals.
Dylan & Kate
3rd Class News
Ms. Heney's Class
Ms Heney's 3rd class have been really busy this term. In January we celebrated Chinese New year and made colourful lanterns. In February we celebrated Pan cake Tuesday and wrote out instructions of how to make delicious pancakes. We learned all about Space this term and really enjoyed learning about the different planets. We painted some planets for art and displayed these in our classroom. We made posters for the wellbeing walk last Friday and wrote lots of positive words on these. 
Ms. McGrath's Class
This term Ms McGrath's class had an artist come into our class to work with them on an art project. They used felt and decorated words for the Amber flag. The children used sheep's wool from Australia and put positive words onto the pre -felt. Then they squeezed water and soap onto the words to help them stick. The finished piece will be displayed in the school corridor. The class have also been focusing on athletics and keeping fit. They have learnt how to play tug of war properly using the strength in their arms and legs. They have also been competing in sprints and relay races in teams of four and passing the baton back and forth. Everyone has had great fun and been getting fitter!
Ms. Lucas' Class
Ms Lucas' class have been very busy this term. They loved PE and Art the most. In PE they did lots of running for the Beep test. Everyone loved it. The children  also learned how to play rounders and hockey. Next term they are going to try to do an Active school Run around Ireland challenge. The class made 3d flowers in Art and jumping leprechauns. They also made magnets for St.Patricks day. And loved studying the colour wheel and mixing different colours to make new colours. The class also made dot paintings and studied the artist Wassily. They painted abstract paintings like he did. The children did projects on China in class and mini projects on biographies of famous people they liked for example Katie Taylor and Shane Lowry. The children studied space and Rachel's Mother bought them 3d models so they made and painted their own model solar systems.  For Maths Day the class did lots of fun quizzes, a table quiz and learned about famous mathematicians.
They had a fun term. Happy Easter
James & Síofra
Spring 2022
GAA 5 Star Award- 15th March 2022
St. Mary's has been recognised as a GAA 5 star centre. This award is given to primary schools that deliver a programme of Gaelic games activity that meets the developmental needs of the children within the school. The school delivered the following programmes over the course of the year 2020-2021: Have a Ball, Fun & Run, Camán & Play/Catch & Kick , Go Games skill challenges and Go Games. Well done to Ms. Morris for organising all the activities and for successfully guiding the school through the programme.
Fun with 3D shapes – 11th March 2022
Pancake Tuesday – 1st March
Love of nature – 14th February
Spring is in the air- February 2022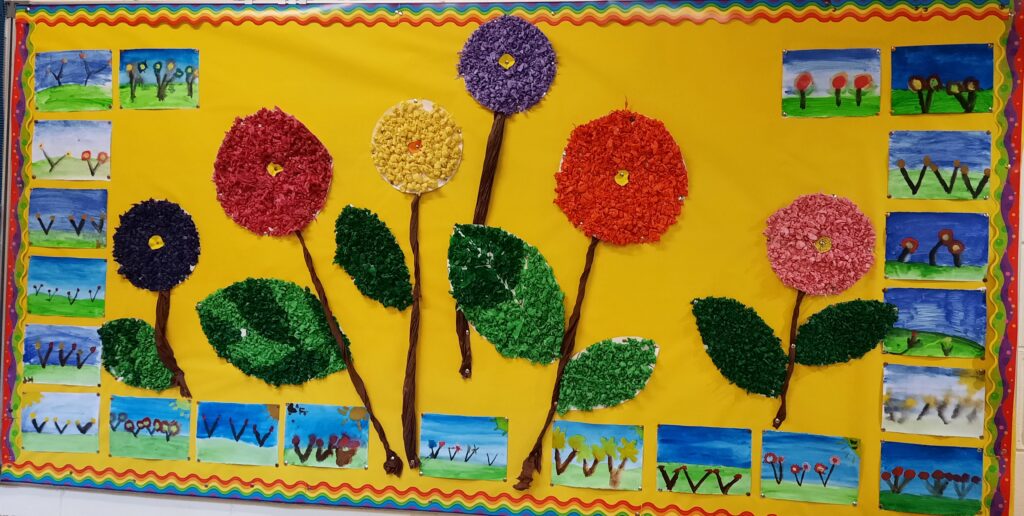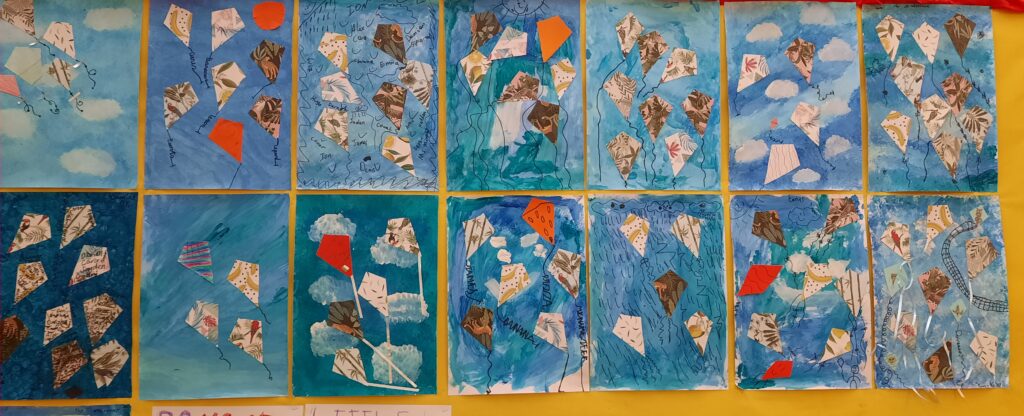 Project work- Spring 2022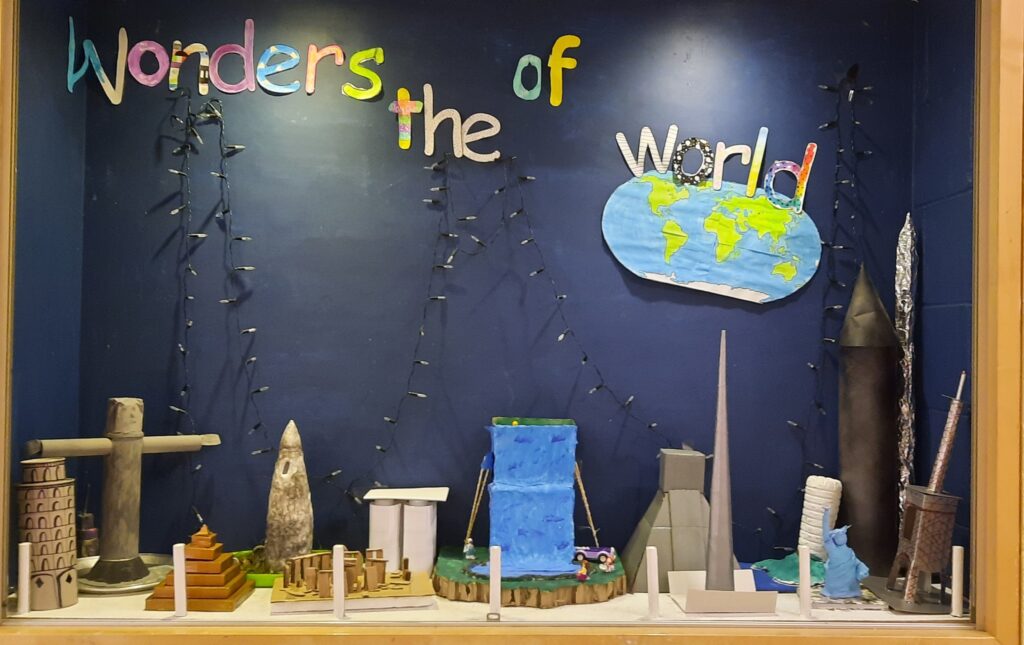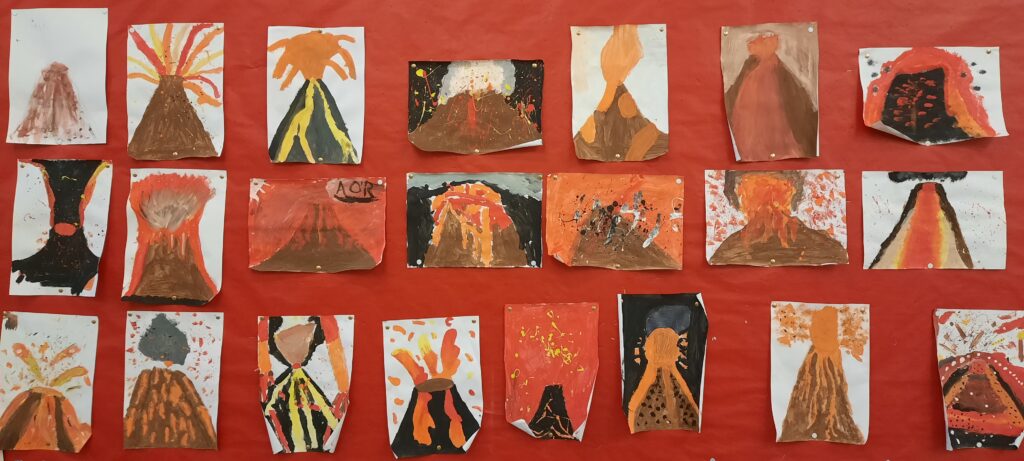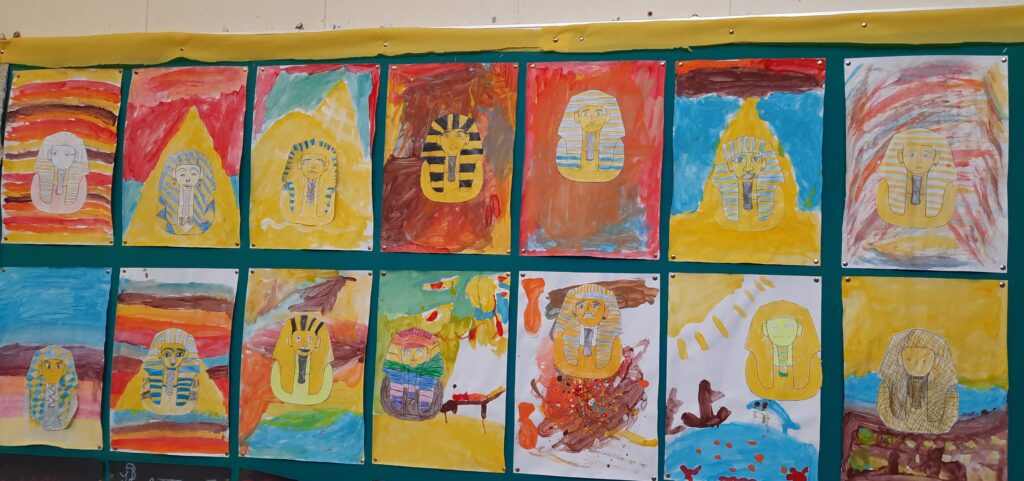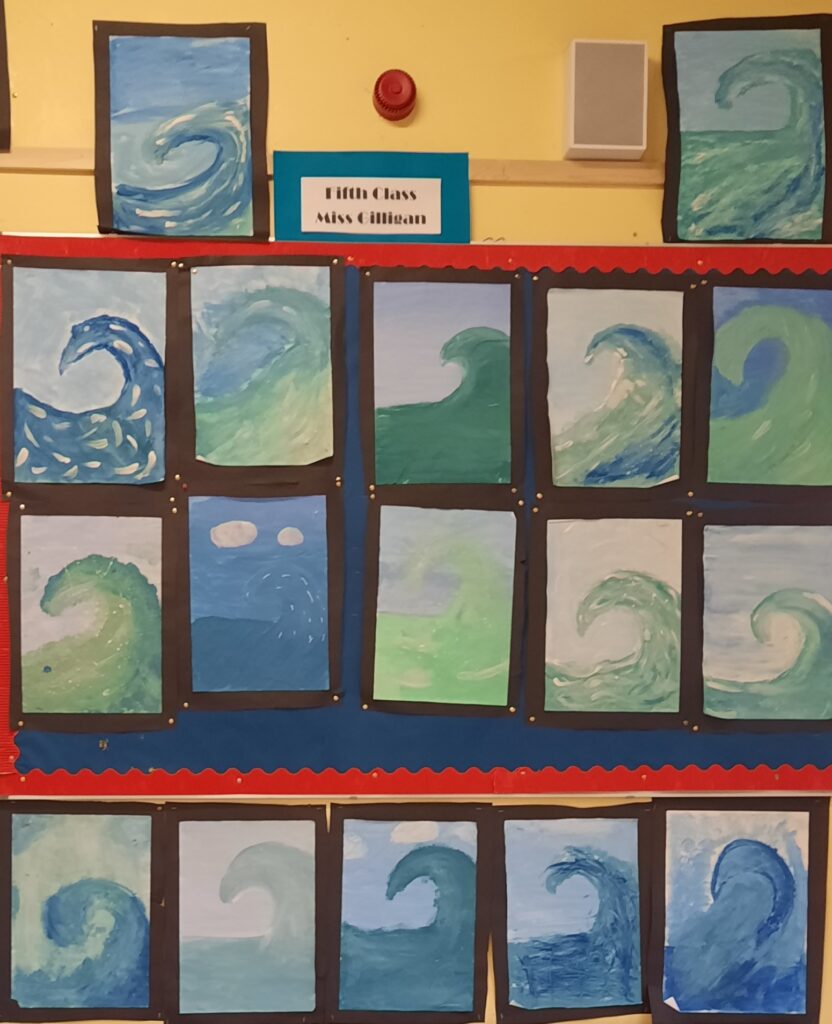 Friendship week- 7th-11th February
This week is Friendship week in St. Mary's. This is an initiative organise by Special Olympics Ireland to teach children about the work of the Special Olympics and the value of friendship. Each day the children are taking part in friendship themed activities and are encouraged to carry out to random acts of friendship for their classmates. On Friday we will be holding a non-uniform day to raise funds for the Special Olympics. There will be daily prizes for the children that make the most effort with the friendship activities each day and on Friday each class teacher will be presenting certificates and prizes to two children in their class that have made the greatest effort throughout the week.
Internet Safety Day- 8th February 2022
It's internet safety awareness day and the children have been learning about the Do's and Don'ts when using the internet. The teachers have been working with the children, throughout the day, on how to keep themselves safe when using devices, apps and the internet. A really useful tool for parents and teachers alike is "Webwise" which can be found at webwise.ie. Alternatively the PDST has a range of internet safety information and resources available on their website.
Norman Castles – January 2022
Ms. Murphy's 4th class learned all about the Norman's and their influence on all aspects of Irish life. The children carried out project work over a number of weeks and presented these to their classmates. As part of their projects the children also made some wonderful castle models from all types of recycled materials.
November/December 2021
Mr. Forde's 6th class
So far this year, our class has done quite a bit. One thing our class has done is electric cars. To make electric cars we used lollipop sticks to make the chassis, skewers for axels and milk carton lids for the wheels. To make the engine run we used a switch, a motor, a battery, 2 cogs and 3 wires. You couldn't just make it anyway you want, you had to make it so that it would not go wayward and crash. There were prizes for, 'The car that travelled furthest', 'The car with the best name' and 'The best designed car. Erin and Lucy's car travelled furthest.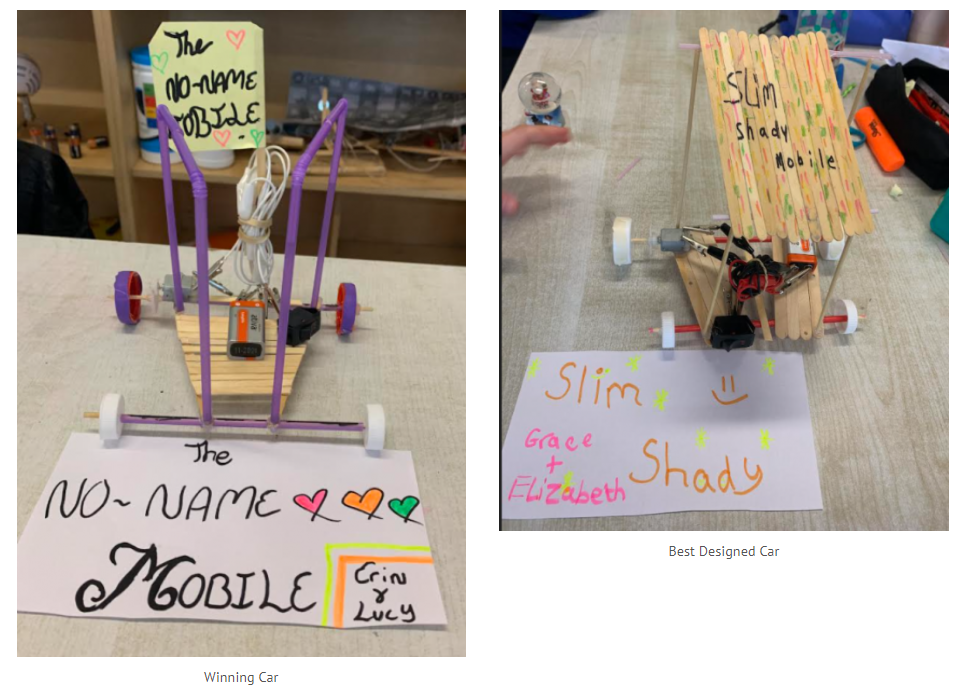 We read a novel called 'The Guns of Easter' this year also. It is about a boy called Jimmy who is living in Dublin during the 1916 Rising. Jimmy's Dad has gone to serve in the British Army. He does not want to fight for the British but he needs to go so that his family will have enough money to put food on the table. Throughout the story, Jimmy's sister is very sick and his Mam is really struggling. He has an auntie who is married to Charlie Fox who is not the nicest of people. The story follows Charlie through the rebellion as he travels over the River Liffey and through the rebellion as he tries to get food for his family.
We also learned about The Plantations and we had a debate podcast. The topics were, 'Should we keep Fossil Fuel Plants open?', 'Should we have homework?' and 'Should we have sweets at tills?'. Everyone auditioned but only a few groups were selected to record. Everyone put in a great effort and had fun.
Every Thursday a member of the class presents an artefact. 11 people so far have presented. Some of the artefacts presented so far are – Lorenzo brought in the Italian World Cup jersey from 2006, Lucy and Hamish brought in game consoles from the 1980's and Oisín brought in a flintknock.
Class Report by Oisín and Grace
Ms Heraghty's 5th class

Ms.Nugent's 5th Class
by
Tia Martin & Omar Abou El Hassan
These are some of the activities that Ms.Nugent's 5th class have been working on this term.
Science Week:
Last month in November we had Science week. The class was asked to make a science experiment at home and then to bring it in to school. It was fun and there were alot of very interesting experiments. There was egg parachutes, coke and mentos, lava lamps, ooblek and way more.
Green Schools:
The Green Schools Committee are working hard on multiple projects. The members of the committee in our class are Aoife and Emma.
Christmas Art:
We made some interesting Christmas art. We painted some wooden spoons into snowmen and we made a whole class display. We are also working on making some Christmas stockings from felt.
Storm Barra:
Unfortunately because of Storm Barra, we were not able to go to school on Tuesday 7th December!!!
The Aztecs:
During the term, each pod was asked to do a project on the Aztecs. Every pod had very interesting facts and every pod put so much effort into their projects. We then all presented the projects to the class and our projects are now on display in our classroom.
Some of the interesting things we learned were, the Aztecs believed in many Gods. one of their main Gods was the sun God. After our projetcs we all made a sun God from clay and we painted them.
Amber Flag:
This year we have two people from our class on the Amber Flag committee. They are Niamh and Lucy. Some weeks we are going to go on a "Walk & Talk", to help with our WELLBEING.
PE:
For Pe this term we have had tag rigby, GAA, olympic handball and now we are working on our fitness with circuit training.
Our Active Schools Committee members for this year are Sophie and Kyle.
by
Tia Martin & Omar Abou El Hassan
Ms Beaubien 4th Class
We had great fun in P.E. this term, we played soccer for the first month. Then we moved on to rounders. Both soccer and rounders were definitely our favourite. We also have been running, dancing and walking on our walkway around the school as part of the Active Schools challenge. We complete the walkway once a day. It's really nice to get out in the fresh air daily.
By: Dylan Murray
Green Schools
A few weeks ago our class went out to the garden to do some gardening. We had a visit from Paddy Madden who is from the Heritage Council and is fantastic in the garden. He taught us lots of interesting things in relation to bio-diversity, composting and nature. It was really interesting.
Blessington Projects
We have also been doing projects on Blessington in our class. Some of our projects were based on St Mary's Church, Blessington House and Black Hill which are very popular sites in the area. Some people are doing projects about other areas/items of interest around the locality. We are presenting our projects on the 8th December.
By: Anna Nugent
Ms. Heney's 3rd class
In our class we made Halloween costumes and wrote Halloween poems for a competition. The winner in our class was Aidan.
For Christmas we made snowflakes, designed Christmas jumpers and did a class display on a Winter Wonderland. We all did a project about the history of Blessington and presented them to the class.
Then we made a timeline of important events in Blessington history.

We played basketball in November for P.E. This month we are doing skipping.
In maths we made 3-D shapes.

Our Active School reps are Leo Noonan and Sadie Webb.
Our Green School reps are Kathleen Klive and Seán Walsh. Our Amber Flag rep is Maisie Callaghan.
Our Student Council reps are Zlata Kravchuk and James Soni.

By Zlata Kravchuk and James Soni – Ms Heney's 3rd classs
Ms Lucas 3rd Class
We have been very busy in 3rd class this term.
In Maths we are studying time and designed our own clocks. We did lots of Christmas arts and crafts making decorations from recycled materials.
During PE lessons we did lots of orienteering outside and soccer matches.
Everyone in class made their own vision boards and personal timelines of their lives which were really interesting.
We all chose an animal to research for a project. After we finished our project we presented them to the class. In December our class made a kindness Advent Calendar and every day we opened a box to reveal a treat for the class. Everyone in our class wrote Christmas stories and poems to enter in the school competition.
During science week we were busy doing experiments and even made chocolate apples to study solids and liquids. We also designed our inventions. We turned our room blue and white to support the Blessington footballers. It's been a busy term.