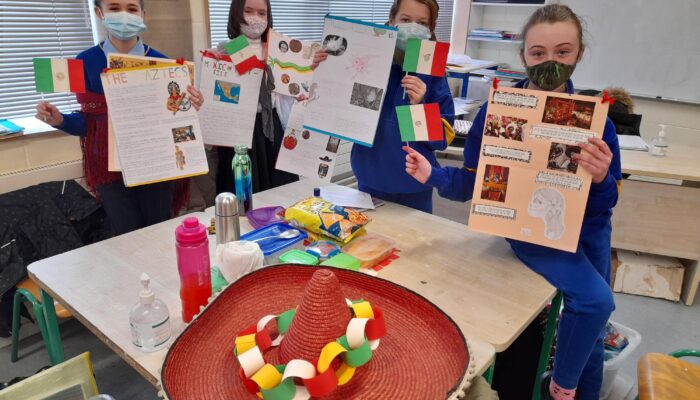 Mr. Forde's 6th class
So far this year, our class has done quite a bit. One thing our class has done is electric cars. To make electric cars we used lollipop sticks to make the chassis, skewers for axels and milk carton lids for the wheels. To make the engine run we used a switch, a motor, a battery, 2 cogs and 3 wires. You couldn't just make it anyway you want, you had to make it so that it would not go wayward and crash. There were prizes for, 'The car that travelled furthest', 'The car with the best name' and 'The best designed car. Erin and Lucy's car travelled furthest.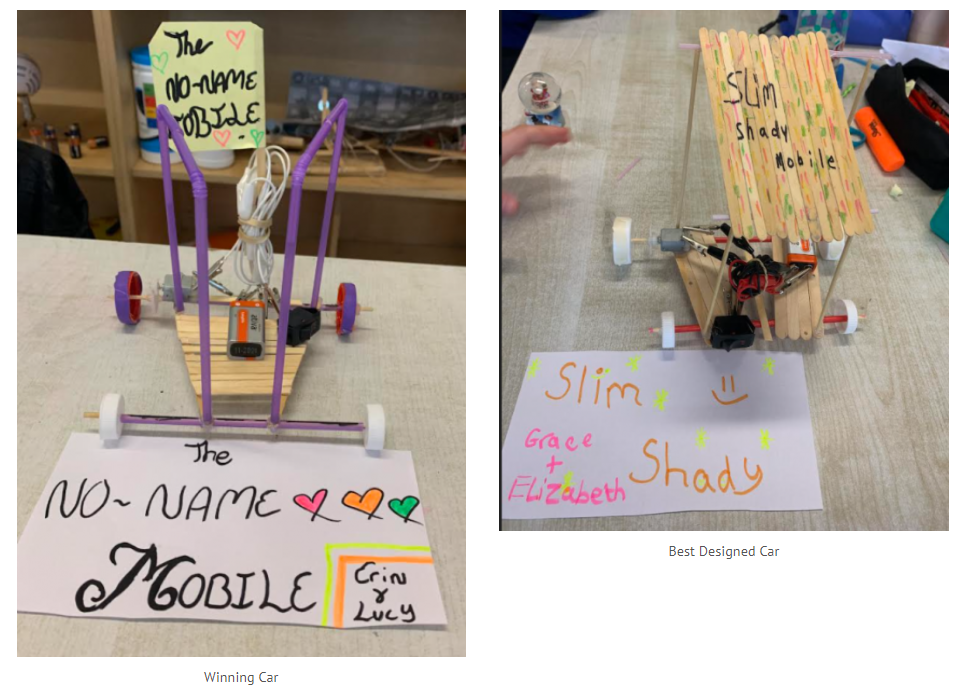 We read a novel called 'The Guns of Easter' this year also. It is about a boy called Jimmy who is living in Dublin during the 1916 Rising. Jimmy's Dad has gone to serve in the British Army. He does not want to fight for the British but he needs to go so that his family will have enough money to put food on the table. Throughout the story, Jimmy's sister is very sick and his Mam is really struggling. He has an auntie who is married to Charlie Fox who is not the nicest of people. The story follows Charlie through the rebellion as he travels over the River Liffey and through the rebellion as he tries to get food for his family.
We also learned about The Plantations and we had a debate podcast. The topics were, 'Should we keep Fossil Fuel Plants open?', 'Should we have homework?' and 'Should we have sweets at tills?'. Everyone auditioned but only a few groups were selected to record. Everyone put in a great effort and had fun.
Every Thursday a member of the class presents an artefact. 11 people so far have presented. Some of the artefacts presented so far are – Lorenzo brought in the Italian World Cup jersey from 2006, Lucy and Hamish brought in game consoles from the 1980's and Oisín brought in a flintknock.
Class Report by Oisín and Grace
Ms Heraghty's 5th class

Ms.Nugent's 5th Class
by
Tia Martin & Omar Abou El Hassan
These are some of the activities that Ms.Nugent's 5th class have been working on this term.
Science Week:
Last month in November we had Science week. The class was asked to make a science experiment at home and then to bring it in to school. It was fun and there were alot of very interesting experiments. There was egg parachutes, coke and mentos, lava lamps, ooblek and way more.
Green Schools:
The Green Schools Committee are working hard on multiple projects. The members of the committee in our class are Aoife and Emma.
Christmas Art:
We made some interesting Christmas art. We painted some wooden spoons into snowmen and we made a whole class display. We are also working on making some Christmas stockings from felt.
Storm Barra:
Unfortunately because of Storm Barra, we were not able to go to school on Tuesday 7th December!!!
The Aztecs:
During the term, each pod was asked to do a project on the Aztecs. Every pod had very interesting facts and every pod put so much effort into their projects. We then all presented the projects to the class and our projects are now on display in our classroom.
Some of the interesting things we learned were, the Aztecs believed in many Gods. one of their main Gods was the sun God. After our projetcs we all made a sun God from clay and we painted them.
Amber Flag:
This year we have two people from our class on the Amber Flag committee. They are Niamh and Lucy. Some weeks we are going to go on a "Walk & Talk", to help with our WELLBEING.
PE:
For Pe this term we have had tag rigby, GAA, olympic handball and now we are working on our fitness with circuit training.
Our Active Schools Committee members for this year are Sophie and Kyle.
by
Tia Martin & Omar Abou El Hassan
Ms Beaubien 4th Class
We had great fun in P.E. this term, we played soccer for the first month. Then we moved on to rounders. Both soccer and rounders were definitely our favourite. We also have been running, dancing and walking on our walkway around the school as part of the Active Schools challenge. We complete the walkway once a day. It's really nice to get out in the fresh air daily.
By: Dylan Murray
Green Schools
A few weeks ago our class went out to the garden to do some gardening. We had a visit from Paddy Madden who is from the Heritage Council and is fantastic in the garden. He taught us lots of interesting things in relation to bio-diversity, composting and nature. It was really interesting.
Blessington Projects
We have also been doing projects on Blessington in our class. Some of our projects were based on St Mary's Church, Blessington House and Black Hill which are very popular sites in the area. Some people are doing projects about other areas/items of interest around the locality. We are presenting our projects on the 8th December.
By: Anna Nugent
Ms. Heney's 3rd class
In our class we made Halloween costumes and wrote Halloween poems for a competition. The winner in our class was Aidan.
For Christmas we made snowflakes, designed Christmas jumpers and did a class display on a Winter Wonderland. We all did a project about the history of Blessington and presented them to the class.
Then we made a timeline of important events in Blessington history.

We played basketball in November for P.E. This month we are doing skipping.
In maths we made 3-D shapes.

Our Active School reps are Leo Noonan and Sadie Webb.
Our Green School reps are Kathleen Klive and Seán Walsh. Our Amber Flag rep is Maisie Callaghan.
Our Student Council reps are Zlata Kravchuk and James Soni.

By Zlata Kravchuk and James Soni – Ms Heney's 3rd classs
Ms Lucas 3rd Class
We have been very busy in 3rd class this term.
In Maths we are studying time and designed our own clocks. We did lots of Christmas arts and crafts making decorations from recycled materials.
During PE lessons we did lots of orienteering outside and soccer matches.
Everyone in class made their own vision boards and personal timelines of their lives which were really interesting.
We all chose an animal to research for a project. After we finished our project we presented them to the class. In December our class made a kindness Advent Calendar and every day we opened a box to reveal a treat for the class. Everyone in our class wrote Christmas stories and poems to enter in the school competition.
During science week we were busy doing experiments and even made chocolate apples to study solids and liquids. We also designed our inventions. We turned our room blue and white to support the Blessington footballers. It's been a busy term.