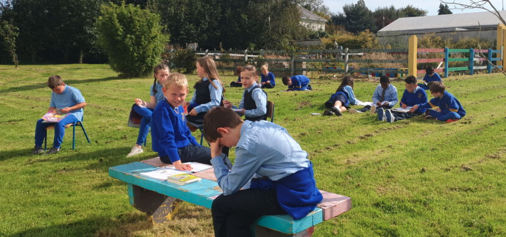 News Term 1 Sept- Oct 2020
Ms McGrath's 6th Class
Ms McGrath's class have really enjoyed being back at school and all the interesting activities that we've worked at throughout this term. We have been busy doing project work and have been learning about the Plantations of Ireland in the 1500's. We really enjoyed doing these projects. We have also been doing lots of art throughout the term. It has been great decorating our classroom and making sure it is nice and colourful. Last week was Math's week in St Mary's and everybody was busy working on Mangahigh. We did lots of other fun games and activities as part of the week too. By Sara Nugent
Ms. Heraghty's 6th Class
School has been different so far this year but we have managed to do lots of fun things in our class already. P.E has been particularly fun and we have loved learning the rules of and playing handball and ultimate frisbee!
We have learned about the Celts and identified some of the places that they may have lived in our locality. They lived in ringforts, hillforts, crannógs and promonotory forts. At the moment we are learning about feasts and festivals around the world and we are looking forward to celebrating one of them – Halloween!!!!!!!!!!!!!! In our class pods, we designed our own spooky haunted houses.
We participated in Maths Week and played lots of games on Mangahigh which is always fun.
Our class are trying to focus more on reading and we are sharing our thoughts and opinions on books that we have enjoyed reading. A lot of people in our class like reading Harry Potter books, Percy Jackson books, Diary of a Wimpy Kids books and books written by the author David Walliams.
We hope everyone has a "spooktaculiar" Halloween.
By Lucy Walsh and Anna Lindsay
Ms. Nugent's 6th Class
We started off the year by decorating A3 pieces of paper with our names and drawings of things and activities that we love to do. We also worked on a whole class piece of art, where we each coloured a piece and when we put it altogether it made a butterfly and a bee.
We have been doing ultimate Frisbee and orienteering for PE.
We learned about Feasts and Festivals, Materials and how they change and the structure of the Earth.
We were learning about The Celts and we worked on a mini-project on The Celts in our pods. We also made clay tiles and decorated them with Celtic designs and patterns.
We really enjoyed Maths week. We did some challenges on Manghaigh, took part in the Target Board challenge and even got to watch Maths TV.
We are all set for Halloween and have decorated our classroom. For Halloween we made gargoyles from clay.
We hope everyone has a good Halloween and enjoys the mid-term break.
Ms. Murphy's 3rd Class
Our class was very busy throughout the term. We did PE every Wednesday and Friday and had great fun. We also did lots of art. In September we made fact files about ourselves, all about me t-shirts, our art trees and leaves. We have lots of pods in our class and each pod has a marble jar. At the end of each week the pod that had the most marbles won a prize. We had Golden time on Friday's too. We played games, we read, drew pictures or did our unfinished work. We sometimes played a game called Go-noodle on the whiteboard. If we finished our work Ms. Murphy said we can have DEAR time, which stands for Drop Everything And Read. We loved being outside in the yard at playtime and playing with our class this term. When it rained we stayed inside and watched a programme called "I've got your back"
Ms. Nugent's 3rd Class
Our class have been very busy this term. Here are some of the things that we've been doing.
English: In English we did procedural writing all about our own magic potions. It was such good fun. We did lots of spelling tests, crosswords, word searches and answered lots of questions too.
Maths: We've been working on Data in maths and we learned about block graphs and tally marks. We've also been working on multiplication, division, hundreds, tens and units too. We do math's tests every Friday as well.
Irish: In Irish we learned a new letter sound every week. For example, this week we learned é this week. We also did word searches and crosswords in Irish too.
Art: We have been learning about Kandinsky art this term. It was great fun making pictures and paintings in this style. We've also been doing lots of Halloween art as well. We love to colour and draw pictures in class. Our teacher lets us have free time to do this when we finish our work early.
Geography: Our class has learned all about the four provinces of Ireland- Leinster, Munster, Connacht, and Ulster
History: We've been learning about Halloween in history. In September we learned all about Christopher Columbus and how he discovered America, by accident!
Thanks for reading- Alex & Sophie
Ms. Beaubien's 3rd Class
During maths week our class had lots of fun. We played Mangahigh and did a maths quiz too. We've been doing lots of art during this term too. We made umbrellas which were really bright and colourful. We worked at leaf art and trees. They were really messy and involved a lot of paint. But everyone really enjoyed those. We did some maths mosaics as well. We had to work on adding, subtracting, multiplying and dividing to make the mosaics. We also made cubes and could decorate the faces too.
Thanks for reading- Anna
Ms. Lucas' 4th Class
Ms. Feely's 5th Class
We've been very busy in Ms. Feely's class since September. We have two new pupils in our class so we did lots of getting to know one another activities over the first couple of weeks. We were delighted to be back in school to see our friends again and be back in a routine. There is a new school walkway around our school grounds and it is great fun. We've been doing lots of PE since coming back to school. We've been playing tag rugby and doing agility activities with our teacher. For art we entered the Credit Union competition which was great. We also made self-portrait masks and an Autumn art activity too. Everyone really enjoyed doing them. We have been reading the novel Kensuke's Kingdom in class this term and are all really loving the book. It was written by Michael Murpurgo and is an exciting adventure novel. We can't wait to find out what happens in the end. We've been working hard on our Gaeilge and English and Ms. Feely has been working hard teaching us too! Last week was Math's week and Climate Action week. It was a really busy week in school. For Climate action week we did a poster competition. During Math's week, we played lots of maths games and we did a carpark trail, tangrams and tessellation activities. We are really excited about Halloween, even though it will be different this year. We really enjoyed working on our Halloween stories and poems too. For a Halloween treat on Friday we'll be making chocolate apples.
Ms. Murphy's 5th Class
PE
We do PE twice a week. At the beginning of every lesson we do a games to warm up. We like to play The Bean Game, Shark Attack, Find your Partner and Ship, Sea, Shore. Last month our activity was Rounders. We really enjoyed playing this outside. This month our activity is Athletics. We started off doing running and relay races. We have now moved on to hurdles and throwing. This week for PE we did an Obstacle course that included running, ladders and hurdles. It was really fun! We are looking forward to our next PE activity in November!
Halloween
We have been busy doing art for Halloween. We made Skeletons out of cotton buds. We also did a Halloween Silhouette. We love doing art! We have also been writing Halloween stories and learning about different Halloween traditions.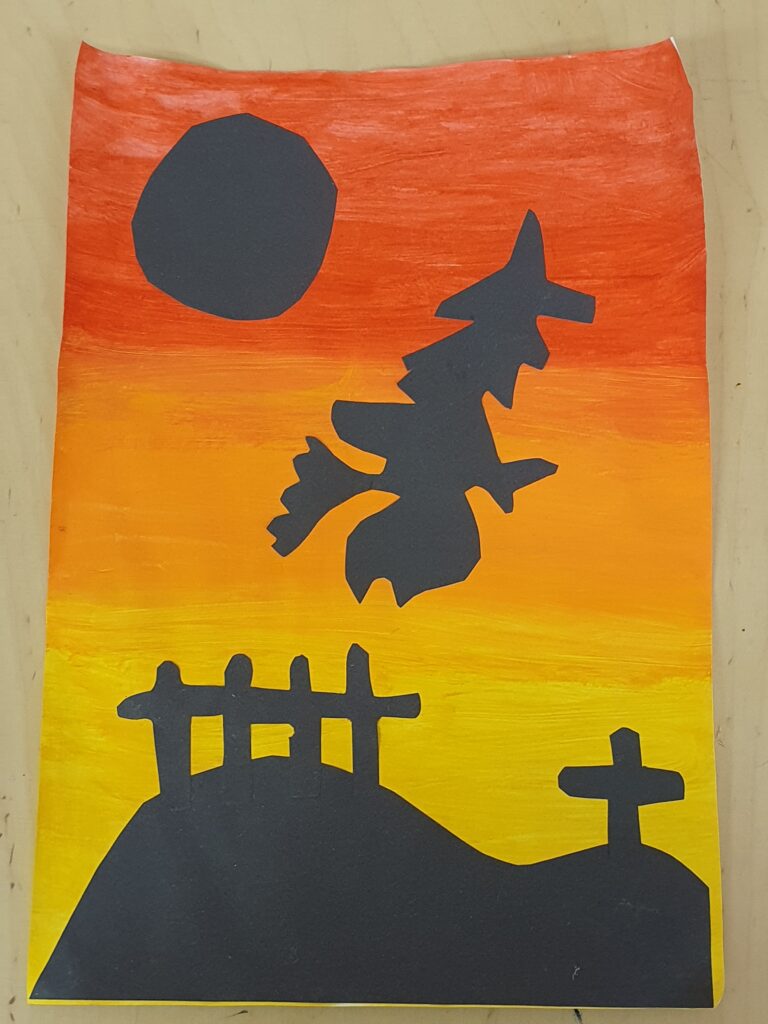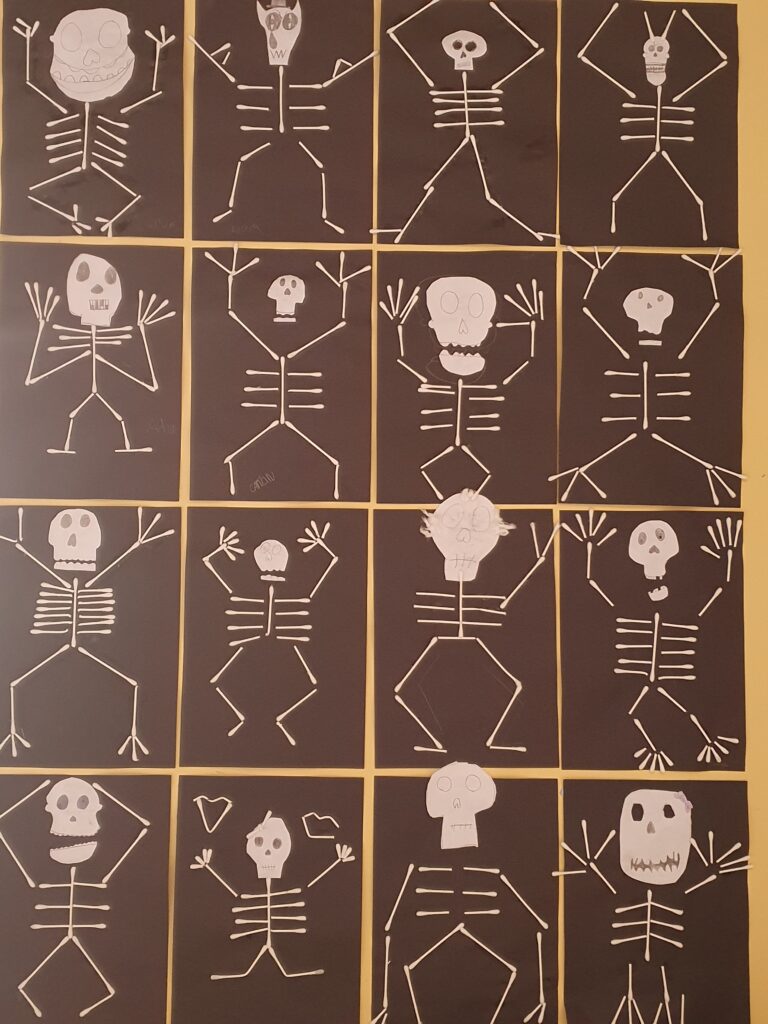 Ms Dineen's Class News
Things have been different since we came back in September in Ms Dineen's class because of all the new rules due to Covid-19. Now we have to sanitize and wash our hands more "to stay safe". But we are happy to be back in school and see our friends.
Due to Covid-19 restrictions we cannot bring our books and pencil cases home, instead we are using an app called Google Classrooms. This allows us to connect and work at home using our devices. We have started using it for our homework and are still getting used to it.
The Active Schools Committee have started to exercise when we line up out on yard at break time. We are all happy to this and enjoy it very much. The Active Schools representative leads the exercises and the rest of the class copy.
We have started our new novel 'The boy at the back of the Class', By Onjali Q. Raúf. The whole class is enjoying it because it is interesting. The boy is a refugee from a warzone and he is finding school in his new Country very difficult. We are curious to find out what will happen to him. Zoe's brother turned 1 on 19th October, Happy Birthday Michael.
Ms Dineen's class wrote our own version of a William Shakespeare poem from Macbeth. We had fun writing our own version and we loved doing it. We added disgusting ingredients like a dog's tongue, a bat wing, a wolf fang, frog eye and some dragon blood with a pinch of moss. We had to make sure each line had 7 syllables and had to create rhyming couples.
For the month of October Ms Dineen's class did Handball for P.E. We all enjoyed playing together and having fun. For each team there were 7 players and 1 substitute.
Thank you for reading Ms Dineen's 5th Class news.
Mr. Forde's 4th Class
In school we buried a time capsule out in the yard, we are going to open it at the end of 4th class. We made towers out of only paper and sellotape. We made balloon cars out of cardboard, balloons, plastic and straws. In our class every Thursday someone brings in an artefact or something manmade. We learned about the Apollo Missions to the moon. In our class we have our own app and website, our website is called ThinkWithYourInk.com and our app is called St Mary's SNS 4th class. We have a class currency called Beans, we can buy a Friday Treat, Spotify Pass, Drawing Pass, Reading Pass and a Raffle Ticket.
Thanks for reading.
Tia and Omar
Ms. Kenny's 4th Class
We started Google Classroom which we are enjoying a lot.
We are doing a Halloween art competition. We are colouring in Skeletons heads and writing Halloween poetry.
Our class went on a nature walk and found out the names of different leaves and trees. We made mini leaf people from the leaves we found. We worked together in our pods to make Autumn nature mandalas.
We are pushing ourselves in PE. We do two days of PE every week. In September we worked hard at our circuits. Skipping was fun in October especially with Miss. Kenny's choice of music… Eye of the Tiger. We enjoyed walks on our new school walkway.
We did a maths walk for maths week and learned new things about our school. We found out that there are 88 windows on the front of our school. We had great fun doing Mangahigh and our quizzes on google classroom. The week ended with a very competitive maths quiz.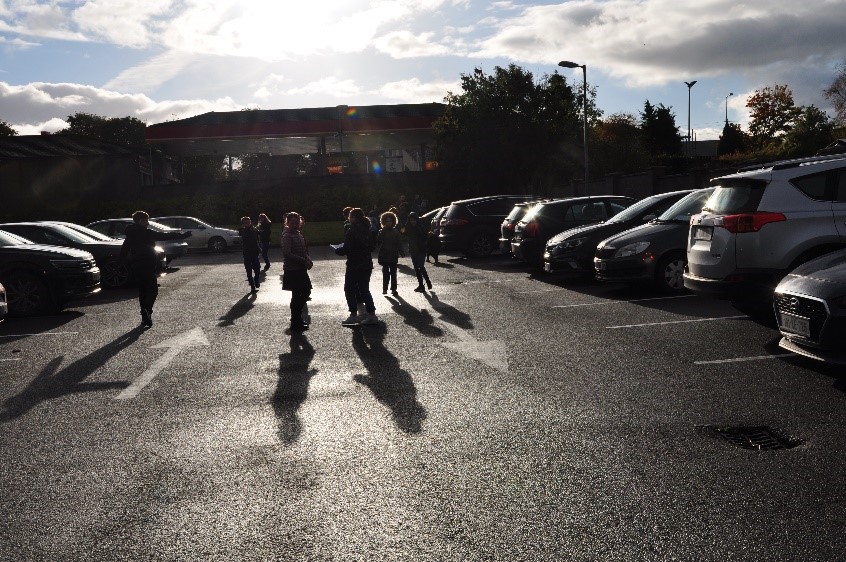 Finally, our class have started to practice mindful meditation every day at 1:50 and it ends at 2:00. So far we have done 'Take Five', 'Magic Moments' and 'Colour Breaths'. It is really fun and relaxing. It allows us to take a break from our busy day. It helps us to look after our mental health.
Happy Halloween to everyone…… By Zach and Abby