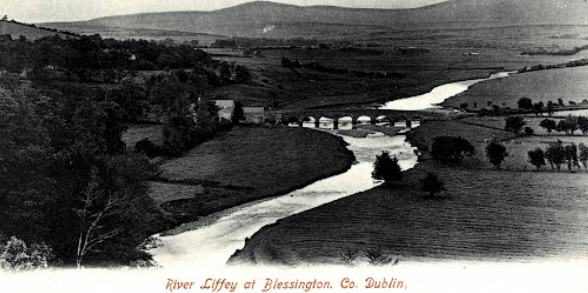 News from November to December 2019
3rd Class
Poulaphuca Reservoir
Ms Gilligan's class have been learning about Poulaphuca reservoir. Afterwards our teacher asked us to do projects on this. We were given the option to work in pairs or on our own. Some of us made cottages as part of our projects and others made models of the village before it was flooded. We also learned the song "Ballinahown" too. The song was written by Barry Kinane, Kyle's uncle. We presented our projects to the whole school and we really enjoyed all the work we did. Thanks Ms. Gilligan.
Monasteries & Abbeys
Ms Heney's class have been working hard on our projects on monasteries and abbeys. Some of our class also made round towers. We showed our projects to all the other classes on Monday 18th of November. Each time a different class came to view our projects we took turns at presenting our work and told them different facts about monasteries, abbeys and round towers. It was a great day. Thanks to Ms Heney for planning such a good activity for us.
(Oisín, Tia & Abby- 3rd class)
4th class
History of Blessington
A historian named Aidan Cruise came to 4th classes to talk to us about Blessington. First he showed us a video of the steam tram. It looked like a tiny bus. It went from Poulaphuca to Blessington and from Blessington to Dublin. After the video he answered all our questions about the tram and then he brought us on a tour of the town. He pointed out Twyford's shop, the marker between Poulaphuca and Blessington and St Mary's church bell, which is the oldest bell in Ireland. We all really enjoyed the tour. Thanks to our teachers for such a great day.
The Blessington Lakes
Earlier this term Paul Tyrell came to speak to the 4th classes about the history of the Blessington lakes. He told us that before the lakes were formed there was a town called Ballynahawn. The Government decided to create the lakes and so this town had to be flooded. The Government did a Compulsory purchase order to force the people to leave their homes. Many of them were very sad about leaving their land and families and friends were separated. Even though the people of the town were given new land by the Government, they were very disappointed about their homes. During dry weather when the lakes are shallow, you can see the top of the church and the old mill. We all really enjoyed learning about the history of the lakes. Thanks to Ms Kenny, Ms Morris and Ms Beaubien for organising such a fun day.
STEPS Engineering programme
Ms Kenny's 4th class are taking part in the STEPS Engineering programme. Two engineers came to our class to talk to us about engineering and the work that engineers do. They showed us a video of how chocolate is made and explained how wind turbines create electricity. They explained the work we will be doing as part of the STEPS programme and answered any questions that we had. As part of the programme we must create something to improve our community. We presented the projects that we have been working on and all our ideas. They were really impressed with our work so far. They said we were very creative and had great imaginations. We really enjoyed their visit. Thanks Ms Kenny for organising this for us.
( Matthew & Conor- 4th class)
5th Class
"The Taoiseach who banned Christmas"
This term Ms McGrath's class performed a Christmas play called "The Taoiseach who banned Christmas" We practised " The first Noel" and " Jingle bells" on the tin whistle. We worked on projecting our voices and getting into character. We worked very hard to prepare for our performances for our parents and all the other classes. We were both nervous and excited. All went well on the day and everyone really enjoyed our play. Thanks Ms McGrath for organising it and helping us to prepare so well.
Music & Fitness
Ms. Heraghty's class have been learning carols and songs in preparation for Christmas. We are hoping to sing these at the school's Christmas assembly and get everyone into the Christmas spirit. We have also been working extremely hard this term at improving our fitness. Each week for P.E. Ms. Heraghty has set up circuits in the hall for us. These include planks, squats, knee lifts, jumping jacks and much much more. We spent one minute at each of the activities and then moved on to the next one . When were first started doing these, we found them really difficult and we could only do one round of circuits. As the term passed we can really notice a difference in our fitness levels. Some of us are managing to complete two rounds of the circuits. Thanks Ms Heraghty for organising such fun activities for us.
Science week
Last week Ms Nugent organised science week in the school. We learned a lot about the solar system and about the possibility of life on Mars. Everyone worked on various science experiments throughout the week and two pupils from each class were chosen to present theirs to the different class groups in the Atrium. Some of the experiments included lava lamps, water fireworks, storm in a glass and much, much more Ms Nugent also organised an exploration dome for the school. It was an inflatable dome with a projector inside. It projected different images around the dome. Everyone really enjoyed the week. Thanks Ns Nugent for all your hard work.
(Jamie & Sara- 5th class)
6th class
Missionaries of Charity
On Tuesday 18th of November Ms Murphy and Mr Forde's classes went to the Missionaries of Charity on the South Circular road. Father Richard and Gerry the Deacon went with us too. We heard the sisters' stories of how they got to where they are living right now. They told us the stories of Sr. Stella and Sr. Martina. Fr Richard blessed us with a first class relic. After that we went to the Pro Cathedral and had a private mass in St. Kevin's oratory. Then we got a tour of the Cathedral itself and learned that it is almost 200 years old. It took almost 50 years to build. We also had a tour of the Crypt where all the Arch bishops and merchants are buried. The last person to be buried there was 3 years ago. We saw statues and plaques of the past Archbishops too. We learned that Pope Francis visited the Cathedral when he came to Ireland in 2018. It was a really interesting day. Thanks to Ms Murphy, Mr Forde, Gerry and Fr Richard for organising the day.
South America
Ms Lucas class have been doing projects on South American countries. They spent 4 weeks researching them and covered lots of areas such as history, food, drink, climate and tourist attractions. Each project included a bibliography and we learned a lot about our chosen countries. The class were very excited to present the projects to the other classes last week. Thanks to Ms Lucas for such an interesting activity.
A visit to St. Enda's
On the 20th of November the 6th classes went on tour to St Enda's, the school founded by Padraig Pearse . The school itself was closed in 1935 and is now a museum. When we arrived, we walked down a path down to the ogham stone and around to the school. We were then split into two groups for our tour. The first room we visited had paintings and sculptures inside. Padraig Pearse loved art. The other group started their tour in the grounds and gardens. We then went to the auditorium where they had their school assemblies. The tour guide told us that girls from a different school would come to sing at the assemblies too. We had lunch in the grounds and afterwards we got to see stuffed animals and a video of a bat that lived in the roof of the building. We learned a lot about Padraig Pearse and his school. Thanks to all the 6th class teachers for organising the day.
( Emma & Tadhg- 6th class)